AVG Anti-Virus 2022 License for 1 Year 1 PC ( Download Link )
Protect what matters
Beneath its deceptively simple design lies a powerful virus cleaner that works in real-time to detect and remove not only Mac-specific viruses and spyware, but PC and mobile threats, too. So AVG AntiVirus not only helps protect all that's important on your Mac, it also prevents you from infecting friends on other devices.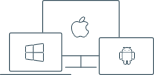 Triple protection
Against Mac, PC and
mobile viruses

Always on
Runs quietly in the background for fewer distractions
Online protection
Block malicious websites, emails and downloads.
Triple protection
Protects not only you, but your friends, too
Our award-winning detection technology scans for Mac, PC, and Android-based viruses and spyware. So you can feel better knowing your beloved Mac is protected — and that you're not sharing viruses with any of your other devices or with your PC and Android friends.